---
The latest news and insights from the metroConnections community.
---
Standing Together: MNUFC + Allina
October 25, 2019 // News
---
Sometimes metroConnections works as the direct contact and partner for a brand, and other times we work completely behind-the-scenes as an agency partner for strategic assistance or tactical support. Fresh Fish Today Marketing is a go-to agency for healthcare giant, Allina Health; especially when it comes to activating the brand's partnership with MLS franchise, the Minnesota United Football Club.
FFT Marketing designed a strategic marketing plan that would connect the Allina brand with their primary target audience on game-day; leading to the development of long-term relationships between soccer fan and brand. However, to pull off this game-day vision Fresh Fish Today Marketing required world-class assistance; and sought out the expertise of metroConnections as its logistics supplier for this unique brand activation.
Allina wanted to inspire game attendees to "Stand Together" and share their photos on social media for a chance to appear on the team's scoreboard. Working with Fresh Fish Today Marketing, we brought this vision to life with a solution to create life-size players, and also customized our photo sharing software to fit the client's needs. Armed with a new brand and style, we applied Allina's brand to the activation's onsite signage and photo kiosk, and then into the tiniest details like the background image of the kiosk's iPads and the photo frames on the shareable images.

Fans were able to truly immerse themselves in both the MNUFC and Allina Health brands by literally standing next to lifelike cutouts of the players, and then share the images on social media using the hashtag #AllinaFanCam for a chance to have their images appear on the scoreboard.
The crowds went especially wild when a real MNUFC player joined in the fun at the activation kiosks for a half-hour during one of the brand activations.
Whether a player was in the kiosk or not, fans loved the activation and waiting lines were a regular occurrence.
Together with Fresh Fish Today Marketing, we were also able to collect data and information for Allina Health to use in their marketing campaigns and lead generation efforts. As part of the iPad process to get access to the shareable photos, users had to answer a few short questions (name, email, etc.), including "Did this activation enhance your overall opinion of Allina Health?" The results were very favorable overall, as was the social media traffic, scoreboard coverage, and lead retrieval.
Do you have a brand partnership need, or an out-of-the-box idea you want custom-built? Are you an agency that might need to tap into our unique set of skills, much like Fresh Fish Today Marketing? Contact us today at info@metroconnections.com.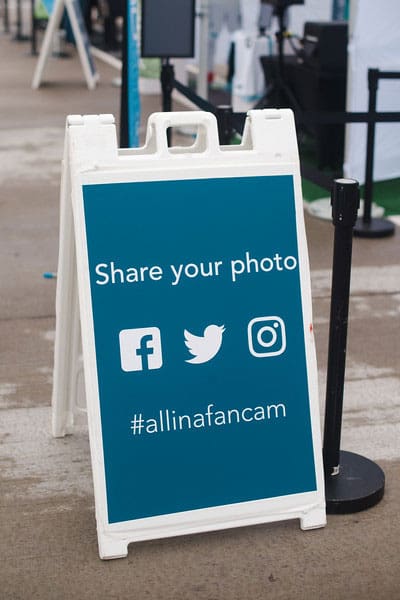 Sign Up For Our Newsletter