---
The latest news and insights from the metroConnections community.
October 25, 2019 // Insights
---
For the third year in a row, metroConnections helped bring the ESPN X Games VIP Suite to life with fresh, electrifying branding, event planning, transportation services and more. This year's activation was an excellent chance for us to showcase our branding capabilities and creative services to produce a continuous experience and vibe from the VIP drop-off area to the VIP suite, VIP event, VIP offsite event, and other VIP spaces at various X Games activities.
This year, the client came to us with a new challenge for the same space they had utilized the past two years, the Club Purple venue at U.S. Bank Stadium – they wanted to reduce the footprint of the space, in order to create a "busier, buzzier feel" for everyone in the room.
It was a good challenge for the metro team to tackle. We created several custom-built items to break up the floor plan and section off areas to only be used for specific events. One custom build was a twelve-foot-wide plexiglass planter box featuring greenery and three-dimensional letters spelling out "X Games." The piece was positioned in front of a 20'W x 10'H free-standing, framed, fabric graphic – together making a unique photo opportunity. It served as a triple win though, as it took up space and made the room feel smaller, hid an unused permanent cooking fixture, and became the perfect space for attendees to take branded selfies and event photos.
With existing brand and vision knowledge, metroConnections showcased strong branding capabilities and creative services to produce an energizing ESPN X Games experience.
The client really wanted to take advantage of the mix of indoor and outdoor space at the venue, too, so we were challenged to make both spaces feel cozier. For the outdoor patio, we incorporated four nine-paneled divider walls to section off space and keep everyone closer together. The metal wall structures featured branded "X Games" printed graphics. From the indoor to outdoor space, the client loved how everything flowed and felt intimate and special.
It was a huge timesaver to have worked on the event in the past and since we were already familiar with the X Games overall branding and vision, we had the energy and time to execute the 2019 challenges with creative solutions. And we always learn more about the client each year we work with them, further strengthening our relationship and partnership.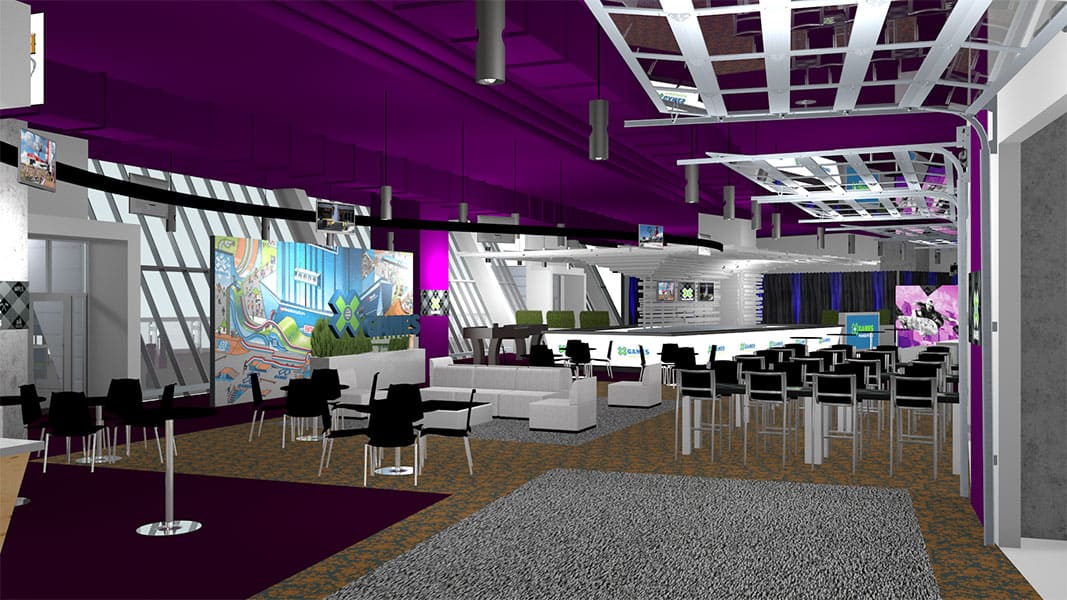 Sign Up For Our Newsletter