---
The latest news and insights from the metroConnections community.
---
ILEA – MSP Star Award Winner
April 18, 2018 // News
---
metroConnections' Named ILEA – MSP Star Award Winner for Best Technical Production Category
The award recognizes the company's work on the inaugural Minnesota Sports Awards ceremony
metroConnections is thrilled to announce it was named an International Live Events Association (ILEA) – MSP Minnesota Star Award winner Saturday night in the Best Technical Production category for its work on the Minnesota Sports Awards ceremony. The Minnesota Star Awards provide event professionals in Minnesota with an opportunity to gain recognition for the events they create, plan, manage, and execute each year. This spring's awards ceremony celebrates work completed in 2017.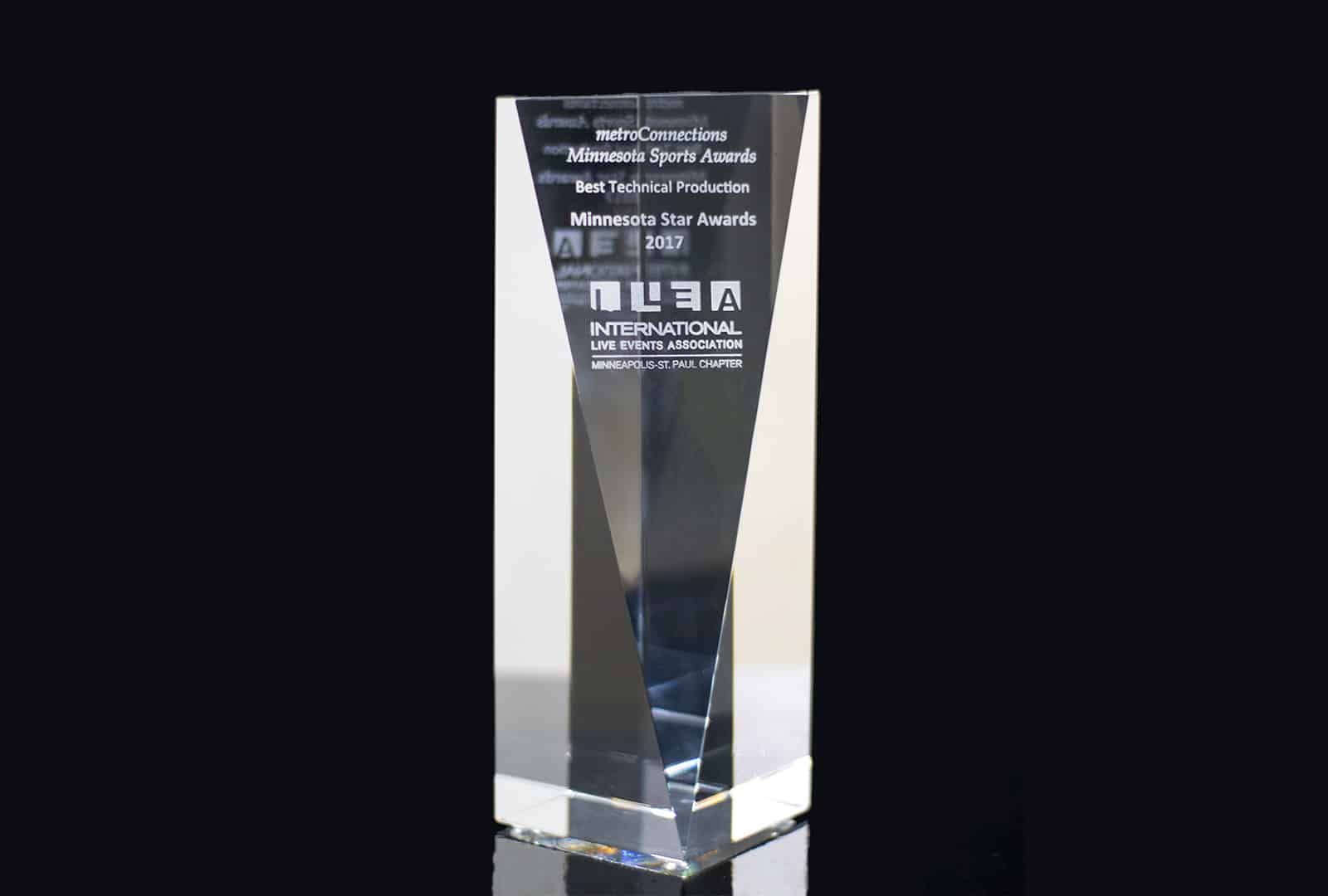 The inaugural Minnesota Sports Awards ceremony – hosted by Sports Minneapolis, a division of Meet Minneapolis – was a celebration of the best in sports in Minnesota over the past year. From the athletes who inspired us to the moments that captivated us, the awards honored the success stories that embody the spirit of sports in Minnesota. Held at the newly renovated Target Center in downtown Minneapolis, the evening's awards show featured some of Minnesota's best-known athletes and sports figures who have shaped our sports scene and contributed to our communities.
"The Minnesota Sports Awards were a huge success for us as a team," says chief marketing officer and owner Tom McCulloch. "We're pleased to be honored for our work on the inaugural award ceremony."
metroConnections worked in partnership with Meet Minneapolis and Sports Minneapolis to bring the team's vision to life through branding, furniture, stage designs, production and more. To help communicate the planning vision, metroConnections created a full fly-through video—a technical video rendering—that showcased the vision in virtual reality while Target Center was undergoing major renovations.
"The metroConnections team did an amazing job of bringing our ideas for the Minnesota Sports Awards to life in a visually stunning way," said Melvin Tennant, Sports Minneapolis Executive Director and Meet Minneapolis President and CEO. "The planning process was seamless, down to the last detail. Plus, their professionalism was on full display, and we didn't miss a single beat, when we had an emergency switch of our celebrity emcee the day of the event."
metroConnections was also a finalist in the ILEA – MSP Star Awards for the following work:
Best Use of Marketing/Design Collateral – X Games Minneapolis
Best Technical Production – in.sight User Conference + Expo 2017
Best Event Planning (Corporate) – The Life Time Event 2017
To learn more about the ILEA Star Awards and see a full list of this past weekend's winners, please visit http://ilea-msp.org/2018_ILEA_Minnesota_Star_Awards_Winners.
About metroConnections
Since 1984, metroConnections has provided complete conference, event, stage production and transportation services for meeting and event planners nationwide. The company operates from its headquarters in Minneapolis, Minn. The metroConnections team uses its expertise and resources to specialize in the design and implementation of themed events, stage productions, transportation, tours and conference program logistics and meetings. metroConnections offers audio/visual and production services and is the creator of Attend-eSource®, a web-based solution that includes elements such as online registration and custom-built event websites. For information on planning conferences, events, stage productions, transportation logistics or corporate tours, contact metroConnections at info@metroconnections.com or visit https://www.metroconnections.com.
About Sports Minneapolis
Sports Minneapolis – a subsidiary of Meet Minneapolis, the Greater Minneapolis Convention and Visitor's Association – is focused on recruiting, enhancing and producing sporting events in the Minneapolis area for the benefit of our community. In addition to generating significant estimated economic impact, amateur and professional sports events can help connect the community through sport, fostering health and wellness.
Minneapolis is on a winning streak in securing upcoming major sports events over the last several years, including Super Bowl LII, the ESPN X Games 2018, 2018 WNBA All-Star Game and the NCAA Men's Final Four in 2019, among others. Sports Minneapolis has played a major role in bringing these events to Minneapolis, along with events like Northern Lights Junior Volleyball Qualifier, USA Volleyball Girls Junior National Championships and many other professional, collegiate and amateur sporting events.
For more information, visit www.sportsminneapolis.org.
Sign Up For Our Newsletter