---
The latest news and insights from the metroConnections community.
---
Outdoor Events Reconnect Teams
March 20, 2021 // Featured
---
Bring the Team Back Together With Outdoor Events Supported By metroConnections
As the news about vaccination rates and COVID-19 continues to trend in positive directions, many companies are searching for ways to reunite their employees and honor the hard work that they performed during a difficult year. With the best part of the Minnesota summer just ahead of us, outdoor events are the perfect way to bring that spirit of celebration and face-to-face communication to your workplace in a manner that feels safe for all of your staff.
metroConnections' Event Services division has a proven track record of developing, managing, and executing events of all sizes for clients across a variety of industries, and their staff is well-equipped to create a memorable experience that celebrates your company's most important asset–your employees.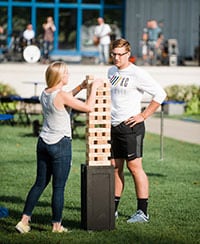 Comprehensive Support That You Can Rely On
Between the challenges of reintegrating staff to in-person working environments and adjusting to new ways of doing business, companies have a lot on their plate right now without adding event planning into the mix. metroConnections makes it easy by offering comprehensive support for your event from start to finish.
"Our goal is to uncover the objective of a client's event, and then use that to shape the experience that we eventually create," says metroConnections Sales Manager Kendra Kruse, "Right now, a lot of companies are looking for a way to welcome their employees back to the office that feels fun and exciting. We can help with that!"
Bringing the Celebration to You
Hosting your outdoor event on-property at your company's offices offers numerous advantages for your employees.
"Events like picnic lunches and happy hours can be easily integrated into a normal workday, and don't create any additional transportation headaches for your staff," says metroConnections Senior Sales manager Kellie Schechinger.
Plus, hosting an event at your own place of business means that you have more control over the safety considerations that protect your employees than you would at an off-premises venue. Most importantly of all, these events create lasting positive memories that will keep your people excited to come back to work all year long.
Paradise in Your Parking Lot
metroConnections has the tools and expertise to transform even the most pedestrian of spaces into fun-filled environments for your employees.
"You might never look twice at your parking lot, but in our hands, it can become a food truck festival, or a carnival," says Kruse, "We can take a basic, functional space that you have and turn it into a place of celebration."
Kruse says that past clients have hosted parties ranging from simple barbecue-style cookouts paired with teambuilding activities to converting a company's parking area into a drive-in movie theater, complete with a huge outdoor movie screen. Another client had a goal of introducing new employees that had previously been working remotely to their new offices by hosting a food truck picnic complete with timed tours of their facilities.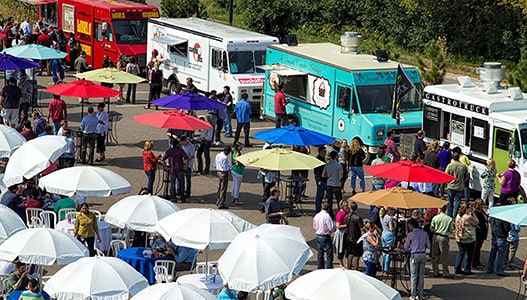 "People are excited to return to in-person events like live sports or live music," says Kruse, "We can bring those experiences to our clients by setting up a band in their courtyard, or hosting baseball-themed party and projecting the game live on a big screen."
Whatever your vision, metroConnections' team of specialists will ensure that your event is safe and secure with features like distanced seating, hand-washing stations, and rigorous sanitization practices. With safety standards changing seemingly every minute, working with an experienced partner like metroConnections means having peace of mind that your employees will be protected.
"We're entering a new normal, but the value of in-person interaction always remains constant," says Kruse, "People are looking for a way to reconnect with one another, and outdoor events are a great way to do that safely."
Sign Up For Our Newsletter